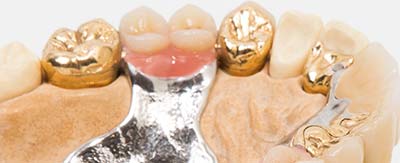 A standout in a tarnished industry, Canada Gold's refining and settlement approach offers the dental community an innovative, efficient alternative.
Dental offices across the country collect scrap dental gold and precious metals in several different forms. Extracted gold teeth, old crowns, and bridges; grindings and sweepings all hold value in the scrap material which can contain, platinum, palladium, and silver.  The process of refining this material can be very difficult so many dentists simply keep their scrap "dental gold" in a safe place, but never turn it into anything of value. Canada Gold has a highly trained and state of the art equipment to handle the recycling of your dental scrap.
While the majority of the value of dental scrap comes from the gold content, up to 30% of the precious metal content is made up of platinum, palladium and silver. Most Gold Buyers will pay for only the gold content (and give you nothing in return for the platinum, palladium, and silver content). Canada Gold pays for ALL of the precious metals on the assay and refining of dental gold lots!
BBB Accredited
Transparency
No minimum quantities
Quick and easy payout
Convenient locations
Trusted service
---
How We Refine Scrap Dental Gold
The material is weighed, characterized, logged into our system and the customer is notified that the material was received.
State of the art methods are used to dissolve the metal. Through a selective process each metal is removed separately and each of the precious metals (in pure form) is weighed to determine the amount due to the customer.
A detailed report is written for the customer describing the actual quantities of the precious metal recovered, the market metal prices, and refining.
---
Gold's use in cosmetic dental procedures has been reduced considerably in recent years, with the emergence of other high-performance materials and alloys in the construction of dental implants and fillings along with the rising cost of gold.
It is still fairly common to see gold alloys used in the manufacturing of dental abutments and other non-visible crowns and implants, but the flashy gold teeth, or grills, once popular with celebrities and rappers haven't been seen leaving dentists offices lately.
Regardless of fashion, pop culture and cost, gold will always have a place in dentistry because of some of its key elements as a metal:
---